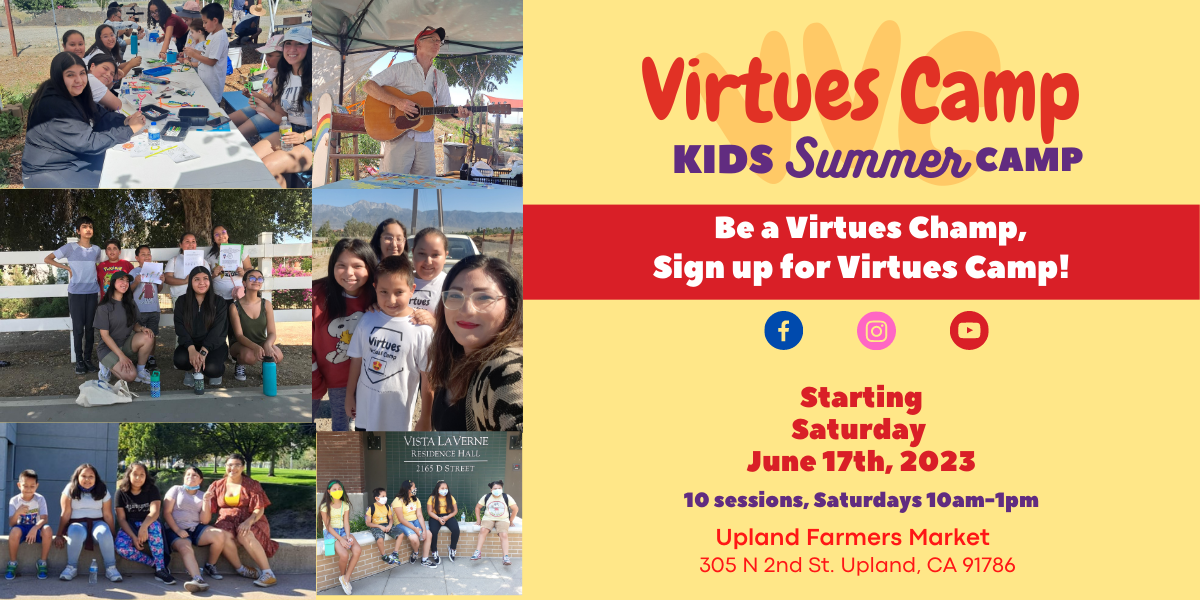 Sessions will be held SATURDAYS only starting June 17th, 2023 from 10am-1pm at the Upland Farmer Market, we will be serving Upland & Surrounding Cities. This summer we have planned hikes, Gardening, Swimming and so much more!
We have created a Curriculum which includes learning about various Virtues, we also include mindfulness activities and teach numerous skills to help build strong minded individuals. We have etiquette lessons, and also encourage and teach public speaking.
All Free of Charge and material included!
More and more the world is realizing the value of investment in our children and youth, and the power of providing inspiration for social action by infusing spirituality and good character in education.
The goal of our Virtues Virtual Camp Youth Program is to introducing concepts of altruism and volunteerism to our young audience, and helping them practice universal "Golden Rule" and desirable virtues of honesty, morals and good character by applying them in form of service towards building a better world with peace and justice for everyone.
Our intended purpose is to empower our JUNIOR YOUTH attendees with eloquent self-expression, inspiring arts in all forms, with writing, theatre, poetry, music, and many service projects to serve their families and local communities. We believe that by complimenting academic education with virtues, cleanliness, good behavior, eloquent expression, healthy friendships, and beauty of arts and service to others, will help increase our children's capacity to construct a better world, and be the change we all like to see!