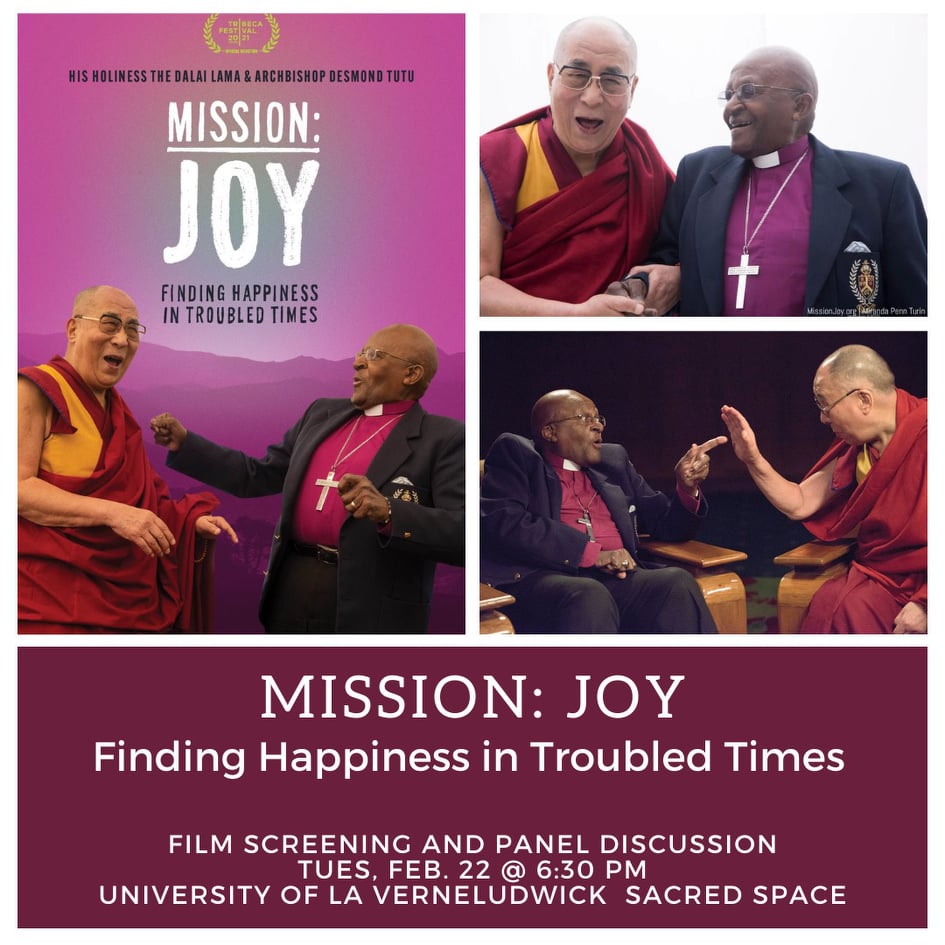 Dear Interfaith Community,
Join us for an in-person/virtual film screening and interfaith panel discussion of Mission: Joy – Finding Happiness in Troubled Times on Tuesday, Feb. 22 at 6:30 p.m. The event is offered in-person at the Ludwick Center Sacred Space and virtually on Zoom. For virtual information, please register https://ulv-edu.zoom.us/…/tJUuceCgqT4pGdzFkjuIneuii… We will watch the film together (1.5 hours) followed by a 45 minute discussion led by a panel of interfaith leaders from our community.
Mission: Joy is a profound and jubilant exploration of the remarkable friendship between Archbishop Desmond Tutu and His Holiness the Dalai Lama, two individuals who have endured great hardships and who have carried the burden as world leaders dedicated to bringing justice to and fighting authoritarianism in their communities. Their greatest defiance of all, however, appears to be their ability to maintain a mischievous and playful spirit in the face of their circumstances.
In-Person Covid Protocols: Upon entering, all in-person participants will need to show a completed Daily Health Check (with a green check-mark). Masks are also required. The event is sponsored by a coalition of interfaith groups in our community: The Office of Religious and Spiritual Life at the University of La Verne, Claremont Interfaith Council, Upland Interfaith Council, and the Inland Valley Interfaith Working Group for Middle East Peace. We hope you will join us in-person or virtually!
Zandra Wagoner, Ph.D.
University Chaplain and Assistant Professor of Religion
Office of Religious and Spiritual Life
Gender pronouns: she/her/hers
University of La Verne1950 Third Street | La Verne, CA, 91750
Office: (909) 448-4446zwagoner@laverne.edu